VCU honors Annie Rhodes as one of its top 10 graduates of the last decade
Annie Rhodes has been named by her alma mater, Virginia Commonwealth University, as one of the university's top 10 graduates of the past decade.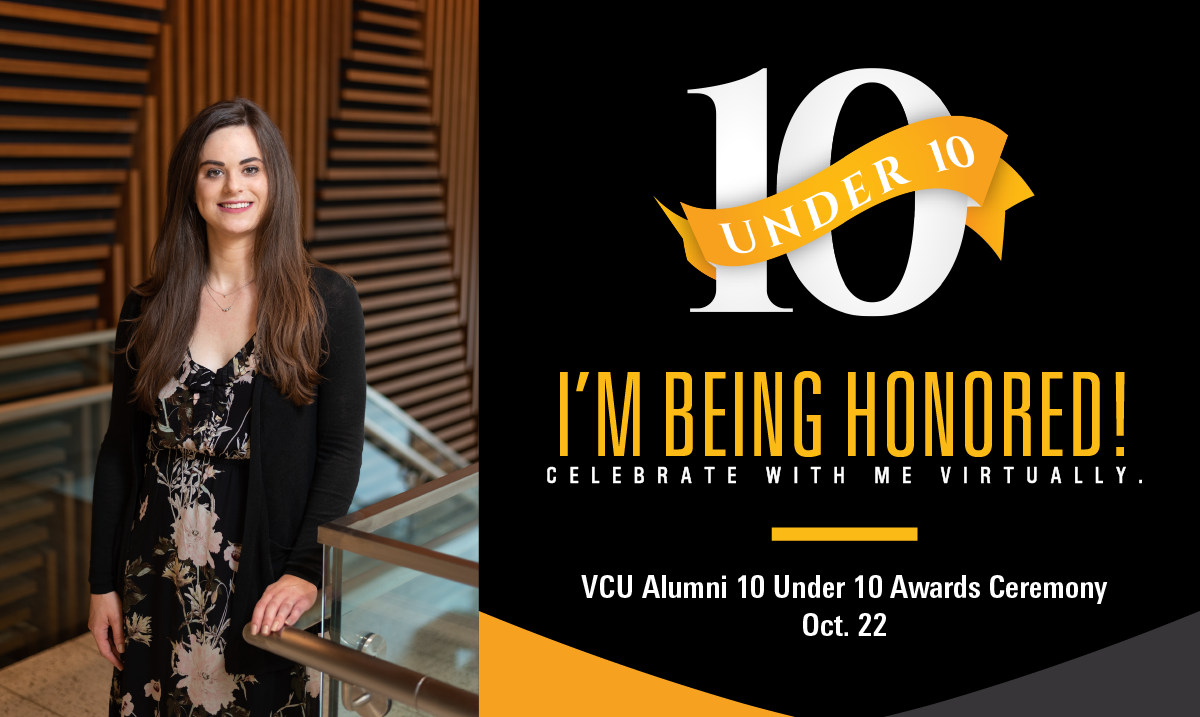 VCU Alumni's 10 Under 10 awards celebrate alumni who earned their first VCU degree within the past 10 years and who have enjoyed remarkable professional success, made important contributions to their community and/or loyally supported the university. Rhodes, a research associate in the VCU Department of Gerontology, graduated in 2017 with an M.S. from the VCU College of Health Professions.
When Rhodes began working at a care community at age 16, she had no idea she would find her life's purpose as an advocate for older adults. But that positive experience showed her how aging is a common experience among humans and the value of fostering a deeper understanding of the physical, mental and societal impact.
Rhodes' interest in the implications of aging led her to pursue a master's degree in gerontology at VCU's College of Health Professions in 2015. The opportunities to grow and VCU's focus on service learning kept her there as a Ph.D. student in health science, with a concentration in gerontology; she's studying the impact of health practices among low-income elders with faculty at the Department of Gerontology
"The more I understand the socioeconomic disparities that exist in aging, the more passionate I am about advocating for older adults," Rhodes declares. "We are all aging people, so any investment in infrastructure or supports for older adults are interests we should all share."
The heightened risks elders face because of COVID-19 put a spotlight on their needs — and deficiencies in the health care system. "I was immediately frightened for them when the pandemic hit," she says. Besides the dangers of social isolation that already existed for older individuals, she was most disturbed by the ageism and hostility she witnessed in the form of discriminatory rhetoric suggesting older people are a more expendable segment of the population. This messaging only reinforced her deeply held belief that integrating older adults into the larger community is more important than ever.
For Rhodes, this bridge-building starts with pursuing allyship with marginalized communities and promoting diversity in gerontology research — which first requires building trust. "Coalition building and community partnerships are a big part of my personal mission." That in turn drives her goal of broader community awareness and engagement to create lasting change. She has a strong interest in increasing the quality of education for nursing homes, which she has been able to foster through the VCU COVID Action Network's Project ECHO, a mentoring-based learning network or nursing homes.
As she continues to tackle challenges and opportunities in front of her, Rhodes' thoughtful approach is clear. "I think more than anything I'll just be listening. And whatever answers the community gives, I'll be acting on that." To learn more about the 10 Under 10 awards program, visit vcualumni.org/events/10-under-10.
About VCU and VCU Health: Virginia Commonwealth University is a major, urban public research university with national and international rankings in sponsored research. Located in downtown Richmond, VCU enrolls more than 31,000 students in 217 degree and certificate programs in the arts, sciences and humanities. The VCU Health brand represents the VCU health sciences academic programs, the VCU Massey Cancer Center and the VCU Health System.
About VCU Alumni: The VCU Office of Alumni Relations nurtures lifelong relationships with and among current and future VCU alumni. It offers valuable benefits and programs for alumni and creates support for VCU. For more, see vcualumni.org.