New director named for Virginia Center on Aging
By Malorie Burkett
VCU College of Health Professions
mgburkett@vcu.edu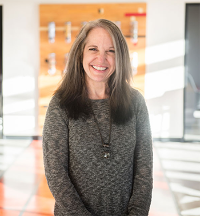 Tracey Gendron, Ph.D., has been appointed executive director of the Virginia Center on Aging (VCoA).
She will maintain her role as chair of the Department of Gerontology in the VCU College of Health Professions, and replaces Ed Ansello, Ph.D., who retired last November.
"Dr. Gendron is a talented leader and gerontologist, and she has dedicated her career to changing the landscape to facilitate healthy, engaged elderhood," said Susan Parish, Ph.D., dean of the VCU College of Health Professions. "Her passion and commitment combined with her expertise in this field will help advance the Center's overall mission."
Created by the Virginia General Assembly in 1978, the VCoA is a critical part of the College of Health Professions, and serves the entire Commonwealth in its interdisciplinary training, research, information and resource sharing.
"Through continued collaborative efforts with partners across our communities, I am excited to lead the VCoA into the future," said Gendron. I remain committed to advocating for older Virginians and ensuring that they receive the care and resources they deserve."
Gendron recently authored a new book titled "Ageism Unmasked," which is slated to release in March. The book reveals the biases behind society's false understanding of aging, while sharing powerful opportunities for personal growth and strategies to help create an anti-ageist society.
Gendron received her Bachelor of Arts from the University of Central Florida, and both her Master of Science and doctoral degrees from Virginia Commonwealth University. With over 25 years of experience as a gerontologist, she has authored and co-authored over 30 manuscripts and seven book chapters on ageism and aging-related topics. She is frequently quoted in popular media outlets, including the New York Times, the Huffington Post, and U.S. News and World Report. Gendron has spoken about ageism in forums across America and can also be seen and heard as a guest speaker on numerous podcasts and video productions.